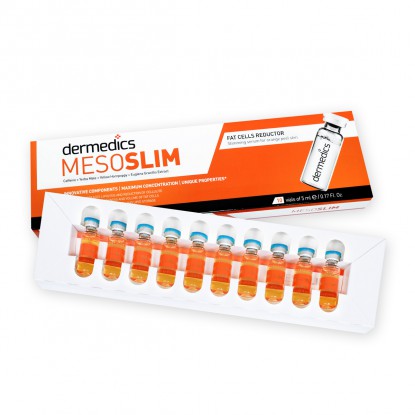 SLIM SERIES
MESO SLIM
Fettzellen-Reduzierung
SKU: MESO SLIM
MESO SLIM Serum wird zur Behandlung von Körperbereichen mit einer Neigung zur Fettzellenansammlung und der Bildung von Cellulitis eingesetzt. Es ist die perfekte Ergänzung für die Behandlung zur Gewichtsabnahme bei Frauen und Männern jeden Alters.
MESO SLIM - Fettzellen-Reduzierung
Schlankheitsserum gegen Orangenhaut
Enthält einen Unisex-Schlankheits-Komplex gegen hartnäckige Adipositas!
Frei von Parabenen und Duftstoffen!
---
General product view
---
MESO SLIM Serum wird zur Behandlung von Körperbereichen mit einer Neigung zur Fettzellenansammlung und der Bildung von Cellulitis eingesetzt. Es ist die perfekte Ergänzung für die Behandlung zur Gewichtsabnahme bei Frauen und Männern jeden Alters.
Active ingredients*
---
Koffein + Mate-Strauch + Gelber Hornmohn + Euglena Gracilis Extrakt
Safety
---
Frei von Parabenen, Alkohol, Farbstoffen, Duftstoffen und Allergenen.
Directions for use
---
Tägliche Hautpflege von Gesicht und Körper
Für Frauen und Männer aller Hauttypen
Cellulitis und lokale Adipositas
Straffende Massagen
Schlankheitsmassagen
Doppelkinn
Efficacy of active ingredients*
---
Aktiviert die Lipolyse
Reduziert die Bildung von Cellulitis
Vorbeugend beim Wachstum von Adipozyten und Lipidspeicherungen
Verringert das Fettzellenvolumen
Besitzt einen intensiv straffenden Effekt
Reduziert den Doppelkinn-Effekt
Treatments types
---
Mesotherapie

Elektroporation (Elektrophorese)
Ultraschallwellen (Sonophorese)
Vakuummassage mit Cellulogy™ und/oder CelluDrain™
Iontophorese (+ or -) = kein Ionisationseffekt
(das Serum enthält keine Ionen, deswegen wird die Iontophorese neutral sein)
Dermaroller / Dermapen (max. 0,25 mm)
(falls Sie Nadeln benutzen, die länger als 0,25 mm sind, tragen Sie das Serum ungefähr 7-10 Minuten nach der Behandlung auf)

Sauerstofftherapie
Chromology™ photodynamische Therapie (PDT)
Hautpflege nach einer Abrasion
Als Grundlage von Körperpackungen (vor allem in Kombination mit dem MESOCAPIL Serum)
Anti-Cellulitis-Massagen sowie manuelle Lymphdrainage zum Abnehmen
Als Grundlage von Massagecremes bei manuellen Massagen
Tägliche Hautpflege
Als Grundlage für den Neoprengürtel und/oder Thermodecken
Anmerkung: Die Anwendung dieses Serums in Kombination mit dem MESOCAPIL Serum und Materialien, die thermische Effekte hervorrufen, wird die besten Ergebnisse ohne eine Schädigung der Kapillaren hervorbringen. Die beschädigten Kapillaren sind ein primärer Nebeneffekt bei Thermobehandlungen auf empfindlicher Haut.
Application area
---
Alle Hautbereiche mit überschüssigen Fettansammlungen und Cellulitis (Unterarme, Bauch, Taille, Gesäß, Beine, Oberschenkel, Hüften). Kann auch im Gesicht angewendet werden (falls erforderlich) - zum Beispiel zur Reduzierung eines Doppelkinns.
INCI
---
Water/Aqua, Euglena Gracilis Extract, Glycerin, PPG-5-Ceteth-20, Ilex Paraguariensis (Leaf) Extract, Troxerutin, Coffea Arabica (Coffee) Seed Extract, Macrocystis Pyrifera Extract, Hydrolyzed Wheat Protein, Caffeine, Glaucium Flavum (Leaf) Extract, Butylene Glycol, PEG-60 Almond Glycerides, PVP, Tocopherol, Biotin, Cetyl Hydoxyethylcellulose, Potassium Sorbate, Sodium Benzoate, Ethylhexylglycerin, Phenoxyethanol, Ethyl Alcohol, Trisodium EDTA.
NOTE: alcohol which is in INCI is not an ingredient of the formulation.
It is just a component of one of the ingredients which is used in formulation and which must be presented in INCI according to new EU regulations for cosmetics.
Cautions
---
Nur für die äußerliche Anwendung. Nicht für Nadelbehandlungen benutzen. Dieses Produkt ist nicht für Anwendungen mit füllenden Injektionen vorgesehen. Für Kinder unzugänglich aufbewahren.
Wichtig: bevor Sie die gesamte Haut mit einem Dermaroller behandeln, führen Sie einen Allergietest auf einer kleinen, unauffälligen Hautstelle durch. Warten Sie danach einige Minuten, um festzustellen, ob die Haut auf eine normale Art und Weise nach dem Rollen gerötet ist, oder eine allergische Reaktion mit Juckreiz zu beobachten ist. Falls kein Juckreiz oder ungewöhnlich gerötete Stellen festzustellen sind , können Sie die komplette Behandlung durchführen.
Gegenanzeigen:
Überempfindlichkeit gegenüber einem Bestandteil der Formel.
Schilddrüsenüberfunktion (aufgrund der zahlreichen Bestandteile von Meeresalgen im Jod)
Allergie auf Meeresfrüchte (das Serum enthält Algen)
Additional info
---
Kann mit anderen Seren während einer Behandlung gemischt werden.
Die Ablagerungen sind ein natürliches Merkmal des Produkts.
Vor Gebrauch schütteln.
Capacity
---
Glasampullen: 10 x 5ml pro Box
Results*
---
Sichtbare Verbesserung der Hautbeschaffenheit sowie ein merklicher straffender Effekt nach einmaliger Behandlung. Die regelmäßigen Anwendungen erzielen spektakuläre Ergebnisse bei der Verbesserung der Hautstruktur und der Verringerung von Fettzellenansammlungen.
* Wirksamkeit der Wirkstoffe bestätigt durch In-vitro- und In-vivo-Tests bei regelmäßiger Anwendung.
Zugelassen in der Europäischen Union als Kosmetikprodukte gemäß der Kosmetikverordnung 76/768/EEC.
Hergestellt gemäß der Guten Herstellungspraxis (Good Manufacturing Practices, GMP). | Mikrobiologisch und dermatologisch getestet. | Nicht an Tieren getestet.
Hergestellt mit der größten Sorgfalt in der Europäischen Union. | Produkt-Sicherheitsdatenblatt (PSDS) auf Anfrage verfügbar.