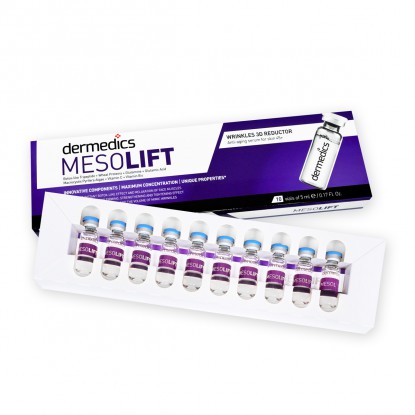 LIFT SERIES
MESO LIFT
3D Falten-Dezimierer
SKU: MESO LIFT
MESO LIFT ist ein Lifting-Serum mit einer Wirkung, die dem Botox-Effekt ähnelt. Es verbessert die Elastizität und Spannkraft der Haut und reduziert die Mimikfalten.
MESOLIFT - 3D Falten-Dezimierer
Anti-Aging-Serum für die Haut 45+
Enthält SYN®-AKE - revolutionäre Technologie für sofortiges Lifting mit Botox-ähnlichem Effekt!
Frei von Parabenen und Duftstoffen!
---
General product view
---
MESO LIFT ist ein Lifting-Serum mit einer Wirkung, die dem Botox-Effekt ähnelt. Es verbessert die Elastizität und Spannkraft der Haut und reduziert die Mimikfalten.
Active ingredients*
---
Botox-ähnliche Tripeptide + Weizenproteine + Glutamin + Glutaminsäure + Macrocystis Pyrifera Riesenalge + Vitamin C + Vitamin B12
Safety
---
Frei von Parabenen, Alkohol, Farbstoffen, Duftstoffen und Allergenen.
Directions for use
---
Empfohlen für Haut mit deutlich sichtbaren Falten ab dem Alter 45+
Für Frauen und Männer aller Hauttypen
Schlaffe Haut (Mangel an Elastizität und Spannkraft)
Hyperpigmentierung
Grauer Teint und "müdes" Hautbild
Brust-Lifting (Lifting der Haut im Brustbereich und Dekolleté)kin of breast and décolletage)
Efficacy of active ingredients*
---
Besitzt einen sofortigen Botox-ähnlichen Effekt
Entspannt augenblicklich die Gesichtsmuskeln und glättet die Haut
Besitzt einen lang anhaltenden stärkenden und straffenden Effekt
Vermindert die Dichte, die Tiefe und das Volumen von Mimikfalten
Verbessert die Bindegewebestruktur
Stimuliert die Synthese von Kollagen und die Bildung von Zellen
Reduziert den intrazellularen oxidativen Stress der menschlichen Fibroblasten
Besitzt bei regelmäßiger Anwendung einen langfristigen Straffungs-Effekt
Treatments types
---
Mesotherapie

Elektroporation (Elektrophorese)
Ultraschallwellen (Sonophorese)
Iontophorese (+ oder -) = kein Ionisationseffekt
(das Serum enthält keine Ionen, deswegen wird die Iontophorese neutral)
Dermaroller / Dermapen (max 0,25 mm)
(falls Sie Nadeln benutzen, die länger als 0,25 mm sind, tragen Sie das Serum ungefähr 7-10 Minuten nach der Behandlung auf)

Sauerstofftherapie
Chromology™ photodynamische Therapie (PDT)
Vakuummassage mit Cellulogy™ und/oder CelluDrain™
Hautpflege nach einer Abrasion
Als Grundlage für Peel-Off Algen-Abziehmasken
Als Grundlage für Massagecreme bei manuellen Massagen
Tägliche Hautpflege
Application area
---
Nur selektive Bereiche: horizontale Stirnfalten (über den Augenbrauen), Augen-Außenkontur (Krähenfüße), vertikale Lippenfältchen und Lippenkontur, Halsvorderseite (ohne Kinn), Falten am Dekolleté und den Händen.
Im Alter von 45+ kann das Serum nur auf die oben genannten ausgewählten Bereiche aufgetragen werden. Tragen Sie das Serum nicht auf Augenlider oder auf den Bereich unter den Augen auf!
Im Alter von 60+ kann das Serum auf dem ganzen Gesicht (ausgenommen Augenlider), Hals und Dekolleté aufgetragen werden.
INCI
---
Water/Aqua, Glycerin, PPG-5-Ceteth-20, Pullulan, Macrocystis Pyrifera Extract, Hydrolyzed Wheat Protein, Algae Extract, Dipeptide Diaminobutyroyl Benzylamide Diacetate, PVP, Biotin,  Ethylhexylglycerin, Potassium Sorbate, Sodium Benzoate, Phenoxyethanol, Trisodium EDTA.
Cautions
---
Nur für die äußerliche Anwendung. Nicht für Nadelbehandlungen benutzen. Dieses Produkt ist nicht für Anwendungen mit füllenden Injektionen vorgesehen. Für Kinder unzugänglich aufbewahren.
Gegenanzeigen:
Überempfindlichkeit gegenüber einem Bestandteil der Formel.
Schilddrüsenüberfunktion (wegen den zahlreichen Bestandteilen von Meeresalgen im Jod)
Allergie auf Meeresfrüchte (das Serum enthält Auszüge von Algen)
Additional info
---
Kann mit CALM Biomimetic Lamellar Creme gemischt werden.
Kann mit anderen Seren während einer Behandlung gemischt werden.
Die Ablagerungen sind ein natürliches Merkmal des Produkts.
Vor Gebrauch schütteln.
Capacity
---
Glasampullen: 10 x 5ml pro Box
Results*
---
Sichtbare Verbesserung der Hautbeschaffenheit nach einmaliger Behandlung. Die regelmäßige Anwendung führt zu einer spektakulären Verbesserung der Hautstruktur.
* Wirksamkeit der Wirkstoffe bestätigt durch In-vitro- und In-vivo-Tests bei regelmäßiger Anwendung.
Zugelassen in der Europäischen Union als Kosmetikprodukte gemäß der Kosmetikverordnung 76/768/EEC.
Hergestellt gemäß der Guten Herstellungspraxis (Good Manufacturing Practices, GMP). | Mikrobiologisch und dermatologisch getestet. | Nicht an Tieren getestet.
Hergestellt mit der größten Sorgfalt in der Europäischen Union. | Produkt-Sicherheitsdatenblatt (PSDS) auf Anfrage verfügbar.